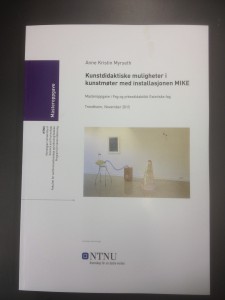 English abstract
Art Didactic possibilities in art meetings with the art installation MIKE is a master thesis in didactics with a specialization in arts education within the Programme for Teachers Education at NTNU spring 2015. The Master thesis is a contribution to knowledge within art mediation. Tags for the task is art, play, shape, time and communication.
In order to find answers to my problem formulation: Opportunities to create didactic material in artistic experiences between artist, artistic expression, educator and children. I have availed myself of two research methods (a multi-design): Grounded theory and Arts based research. The thesis shows how you can work qualitatively with verbal and visual interviews, which in turn has generated sound files, video material, transcribed interviews and drawings. Coding of the transcribed material is made with a comparative analysis and coding of the verbal and visual material is made with an A / R / Tography. As part of my A / R / Tography I have created an art book. I have responded to the artistic visualizations that the kids did and at the meetings and interactions that took place in my interview with them. Visualizations that tell me something about their experiences in the art meeting with MIKE. Codes and analysis is inserted into an existential and social constructivist theoretical foundation.
MIKE created by Ellen Sofie Griegel is an installation which was exhibited as one of several artworks in the Trøndelag exhibition, at Trøndelag center of Contemporary art, at its premises in autumn 2013.
The art didactic opportunities I see in my research is linked to play, form, time and communication. To play gives people opportunities to grow and develop. Form allows us to be in dialogue with others, and ourselves, with all of our senses to also go into wordless mental images. Art has an existential quality and allows us a qualitative experience of time. Is united in art our past, present and future. Through art meetings we can remember, we develop our imagination and our reality, something that allows dreams, beliefs and hope for the future.